2019 Utility Vehicle of the Year
Brand-new for the 2018 model year, the Hyundai Kona has been making waves ever since its debut for its unparalleled design and engineering. This January, the 2019 Hyundai Kona and Kona Electric CUV together earned the title of the 2019 North American Utility Vehicle of Year. This coveted award is given every year by the North American Car, Utility, and Truck of the Year automotive media jury at the North American International Auto Show in Detroit, which brings together auto industry leaders and experts from across the globe.
Hyundai was thrilled to receive the industry-leading award. Brian Smith, who is the chief operating officer of Hyundai Motor America, stated, "We couldn't be more proud of our innovative new Kona and Kona Electric crossover winning the prestigious North American Utility Vehicle of the Year." He continued, "Kona is an affordable, stylish and functional compact CUV, tailored to the needs of customers who pursue active lifestyles of all kinds. It's setting new standards for its segment, with appealing design, cutting-edge connectivity and class-leading available safety features. We know our customers are going to agree with the top media confirming this impressive award."
From everyday drivers to auto experts, the Kona definitely impresses. The winner of the award is determined by an independent panel of auto journalists and analysts from across North America, and this year the jury included 54 media outlets. Despite this diverse array of judges, the Kona proved to be the shared favorite.
Other corners of the auto industry have also lauded the 2019 Hyundai Kona. It was named the number one subcompact SUV by U.S. News & World Report and the Best Buy of the Year among Subcompact SUVs by Kelley Blue Book. For 2018, the Kona earned the coveted Red Dot Award: Product Design 2018, recognizing its magnificent design, and was named to the 10 Coolest New Cars Under $20,000 by Kelley Blue Book. Never one to skimp on safety, the 2019 Kona earned a 2019 IIHS Top Safety Pick Plus title, which is the highest title given.
From its beautiful design to its breathtaking performance, the Kona is a wonder of modern automaking. Its electric vehicle technology hints at the future of the auto industry, while its state-of-the-art tech and safety show the very best of what is available today. The 2019 Kona soars beyond your everyday driving needs, elevating your day and lifestyle.
To see the excellence that won over critics for yourself, contact us at Tipton Hyundai to set up a test drive.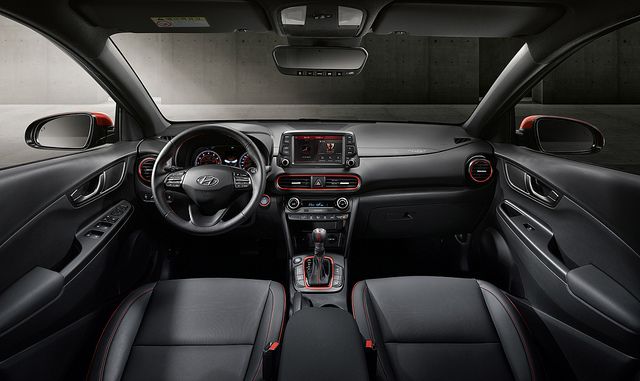 Learn More About The Kona