Hyundai IONIQ 5 Shows Off in New Spider-Man Movie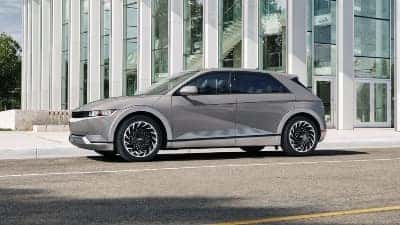 Have you and your family seen "Spider-Man: No Way Home" yet? If so, you've probably noticed that 2021's biggest smash-hit movie has a distinctively Hyundai look.
Two all-new Hyundai vehicles — the innovative IONIQ 5 EV and the redesigned Tucson SUV — made appearances as part of the on-screen superhero action. The IONIQ 5 also played a key role in the "Only Way Home" ad spot leading up to the movie's release.
Starring Tom Holland, "No Way Home" is a sequel to "Spider-Man: Far from Home." It explores the fallout from the end of the previous movie, in which Spider-Man's secret identity as Peter Parker is exposed to the world.
Hyundai's role in the new Spider-Man movie is part of a deal with Sony Pictures that also includes upcoming films like "Uncharted" and "Spider-Man: Across the Spider-Verse."
Hyundai vehicles like the Veloster have starred in other recent Marvel movies like "Ant-Man and the Wasp," and the brand has shown up in ad spots for Marvel TV series like "Loki" and "The Falcon and the Winter Soldier."
If you're interested in experiencing the all-electric performance and cutting-edge design of the new IONIQ 5, be sure to contact our team here at Tipton Hyundai in Brownsville, Texas — and we can also get you behind the wheel of models like the new Tucson or the family-friendly Santa Fe SUV.